Why YouTube is too often the first choice but really should only play a role in acquisition
YouTube is omnipresent as a video platform. Unfortunately, luckily, whatever you think about it. Facebook is not so enthusiastic, as the video advertising market is worth billions of dollars and steadily growing. Facebook wants a larger chunk of it and is therefore introducing the video platform Watch.
Interesting developments indeed, and we are very curious to see how YouTube will react. And in particular, what is changing for publishers. It is already foreseeable: Also Watch should only be a channel for attracting viewers to your own site for monetization.

One mistake that many video publishers make is that YouTube and Facebook Watch are seen as shortcuts for quick profits through video advertising.

Although you can make some money on such platforms through video ads, in recent years this process has slowed and hardened due to the immense competition.

YouTube (or Google) has so often changed its YouTube Partner Program policies that it has become extremely difficult to seriously monetize video content. These days it's not the best idea to go for a quick and easy way to earn some bucks.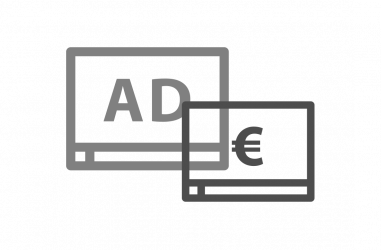 More than 1 billion people are on YouTube and Co. on the road. And yes, you should definitely be present there. Just a little differently!

Goliath against Goliath. But what about the many David's who dutifully feed YouTube and Watch with video content, hoping to win subscribers who will hopefully become loyal customers (of YouTube or Watch).

Here are some more arguments why you should not blindly engage with YouTube and Co.:


YouTube can change the rules at any time. Protest useless, YouTube does not care.
Paid videos cannot be hosted on YouTube because everything is published.
You cannot post link tracking to see where visitors are coming from.
YouTube can insert search fields or ads in videos. This can drive users away from the site. Under certain circumstances to your competitors!
You have no real control where the video may still be shown (Brand Safety).
The walled gardens should only be a means to an end that the traffic will end up on your website. Upload a short teaser to YouTube and Watch and point towards your website.
And that's not complicated at all. It's crucial that the content is hosted in a video CMS like 3Q. Then push a few seconds or minutes as a teaser to the Walled Gardens. As CTA, followed by a hint that the rest of the video can be watched on your own website.