The platform for the entire streaming workflow
Ingest, encode, stream and deliver video content; Live and On-Demand.
Create Account
We offer you a smart Video Hosting solution to deliver any kind of video content. Prepare your content for publishing. Control, plan and manage the distribution of your portals and partner pages.

We make it easy for you to upload, encode and publish video content.
---
Cloud Encoding
To make your live feeds or file-based content available on all devices, we transcode your content into multiple codecs, formats and resolutions.

The streams can then be delivered as HTTP Live Streaming (HLS) and Dynamic Adaptive Streaming over HTTP (DASH).


---
With our high-performance and scaling infrastructure, we guarantee to provide fast, secure and reliable delivery of your media.

We operate our own infrastructure in Europe with our own backbone. To be able to offer you the best possible performance worldwide, we have important partners like Google, Akamai or Alibaba for delivering content to your customers.
---
To optimally enhance your content on different end devices, we have developed our own video engine on the basis of HTML5.

This ensures the optimal presentation on smartphones, tablets, desktops, chromecast or fire tv.


---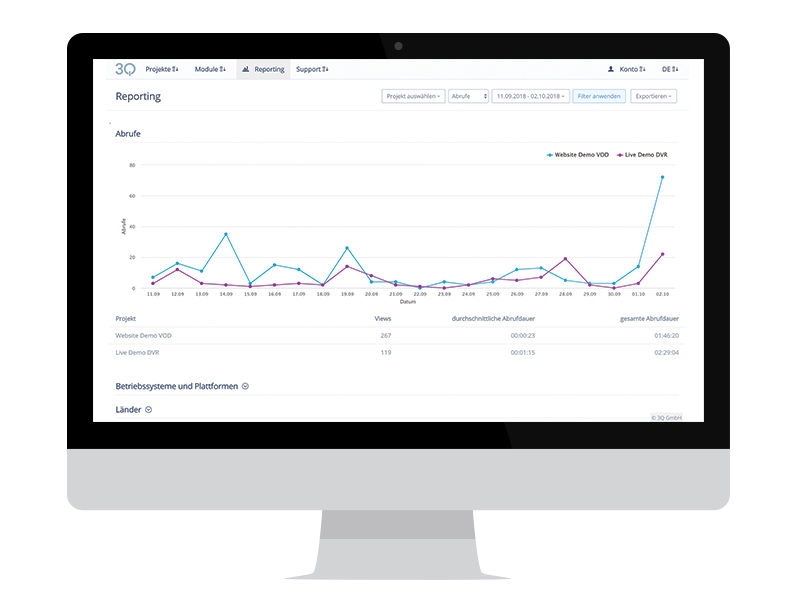 Reporting & Video Analytics
Using our analytics, you can analyse the distribution and usage of your videos. Monitoring all events allows us to tell you exactly how your content is being used.

We will help you to identify trends and rate your videos based on performance.
Features that convince
3rd-Party Publishing
Push your content to social media channels or third party providers.
Monetization
Use your adserver or deliver your content behind a paywall.
Universal DRM
With our Universal DRM, licensing is child's play.
AMP Video
Integrate your content in Google's AMP without any problems.
Webcasting
Combine and extend your livestreams with additional content.
Playlists
Combine video and audio files into playlists.
Cloud Recording
Record your livestreams and publish them.